Chao Pinhole Surgical Technique® in Port Isabel, TX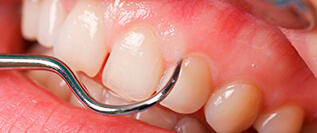 Gum recession is a problem that can occur for a number of reasons over time, including the presence of periodontal disease, aging, or even simply brushing your teeth too hard. This can be dangerous because the vulnerable root of the tooth may become exposed, which can result in potential damage and decay. Thankfully, Dr. Salazar offers The Chao Pinhole Surgical Technique® (PST™), which is a comfortable and minimally invasive treatment that can repair areas of gum recession here in Port Isabel, TX.
The Treatment Process
Traditional gum recession treatments typically require the inconvenient use of grafts or donor soft tissue that rebuilds the patient's original gum line. Alternatively, The Chao Pinhole Surgical Technique® simply creates a very small hole in the patient's natural soft tissue and utilizes special instruments to expand and move the gums so that they cover the tooth roots once more. That's all there is to it! The patient is able to remain comfortable throughout the procedure, recover quickly, and achieve results that both look and feel excellent. Please contact Port Isabel Dental today if you'd like to learn more about this transformative procedure, or if you're ready to schedule an appointment for you or a family member.