Periodontal Therapy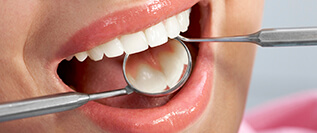 Periodontal disease, which is also known as gum disease, isn't just one of the most common oral health problems. It can also have an enormous impact on your total health and wellbeing if it isn't treated. Thankfully, treatment for this serious health condition is possible. At Port Isabel Dental, we offer personalized periodontal therapy to help patients ease their symptoms and enjoy better oral health again. To find out how Dr. Armando Salazar and the rest of our team can help patients with minor or advanced periodontal disease, give us a call here in Port Isabel, TX.
How do I know if I need periodontal therapy?
In its early stages, periodontal disease often only exhibits mild symptoms that may not be noticeable to the untrained eye. We strongly recommend attending routine appointments with a dedicated dental team like ours so that we can identify the development of this condition at the earliest stage possible. However, there are some tell-tale signs patients can look for when brushing and flossing. They include:
Bleeding gums.
Excessively red, swollen, or tender gum tissue.
Teeth that appear gradually longer over time (a sign of gum recession).
A change in the way your bite fits together.
Bad breath that lingers even after brushing/flossing/mouthwash use.
Depending on the severity of your condition, our team may recommend an in-depth cleaning known as scaling and root planing, antibiotic therapy, or state-of-the-art periodontal surgery with LANAP® to combat the damage caused and restore health to your mouth.
Periodontal Surgery with LANAP®
Instead of relying on traditional, invasive tools for periodontal treatment, our Port Isabel team is happy to utilize the state-of-the-art LANAP® laser. This technology makes the process of removing bacteria and infected tissue from your mouth much more comfortable, precise, and predictable, restoring oral health and potentially protecting natural teeth from the threat of extraction. Patients recover faster as well because bleeding is minimized and sutures aren't even necessary. Our team enjoys being able to ensure the best possible outcome for you and your valuable smile!