Beautiful Veneers for the Port Isabel Area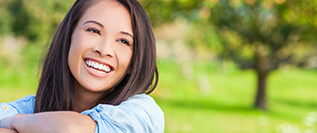 Are you someone who feels inhibited by chipped, stained, discolored, unevenly spaced, or misaligned front teeth? At Port Isabel Dental, we have a popular and effective service known as veneers that can help you create a brighter, cleaner, and more attractive smile. Because veneers are made from high-quality dental porcelain, they look natural and are resistant to stains. They're also wafer-thin so they can easily be affixed to the front of your smile.
In most cases, treatment with custom-made porcelain veneers only involves two visits. During your initial visit, your dentist will determine the complexity of your situation and begin designing your veneers. Our team will also prep your teeth by removing a small amount of surface material from them. Doing this will ensure that your veneers will lay flat and look natural once they're in place. We'll finish your first visit by affixing a temporary set of veneers in place to protect your teeth.
When your permanent veneers are finished, you'll return to our Port Isabel practice for a follow-up visit. During this appointment, we'll remove your temporary veneers and attach the set created just for you by our lab. We'll end your procedure by making any final adjustments that are necessary, and we can talk to you about how to care for your veneers going forward.
Are you interested in learning more about porcelain veneers? Call our office today with your questions or to schedule a consultation visit with Dr. Armando Salazar. We're proud to offer exceptional cosmetic care to Port Isabel and all nearby communities.